A Local Ottawa Business
Capital City is proud to serve the citizens of Ottawa! As a local Ottawa business, we are in tune with the needs of our consumers. We're familiar with the homes and systems of the Ottawa region and can put that knowledge to use for your heating & air conditioning needs! Call the Capital City Team today to book an appointment.
HVAC Services in Ottawa
Capital City offers the following HVAC Services in Ottawa:
Furnace repair / service / maintenance
Furnace Installation
Furnace and Air Conditioner Annual Protection Plans
Air Conditioner repair / service / maintenance
Air Conditioner Installation
Fireplace service / maintenance / repair/ and installation
Boiler repair / service / maintenance and installation
Gas line installation
Duct work installation
Air Quality service and installation
Water heater service / repair / installation
Tankless water heater service and installation
Humidifier installation and service
New home hvac installations
Custom home hvac installation
Ductless AC repair / service / maintenance and installation
HRV sales / service / repair and installation
Contact Us
7820 Flewellyn Rd, Ashton ON K0A 1B0
(613) 274-0220
Get in touch with our team to schedule an appointment. Our team of professional HVAC technicians & comfort advisers will help you find the perfect heating & solution. Capital City is proud to offer a complete and comprehensive range of HVAC services from simple repairs to complete installations of wifi-enabled full heating & cooling systems!
Capital City Heating and Cooling Inc.
7820 Flewellyn Rd, Ashton ON K0A 1B0
World Class HVAC Products
Capital City offers a suite of world class HVAC products from industry leading manufacturers like Bryant. Our company believes in a job well done, so we carefully choose the finest equipment that we provide to our customers and install in their homes. By offering great products along with our excellent service, we know that we can meet and exceed all of your expectations!
API keys with referer restrictions cannot be used with this API.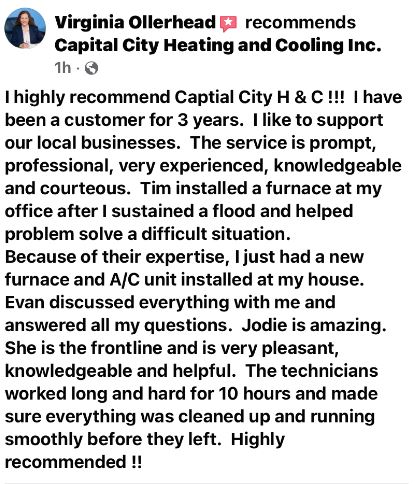 Hi Jodie and Evan,
Just a short note to let you both know that it was a pleasure to deal with both of you cncerning the replacement of our Lifebreath HRV.. 
Most of the time Management only gets calls of complaints but I want to assure you both that i was very impressed with both of your personal and business approach to our purchase.
Thank you for restoring my belief that there are still companies who believe in Customer service .
Thank you both for your time.
As well I was quite impressed with the two service reps who came to nstall the unit. Kudos to them both.
We're very pleased with how the installation process went yesterday. Instead of simply doing a 'satisfactory' installation they took the time and care required to perform an 'outstanding' installation. It's refreshing to see such high quality workmanship and attention to detail. They obviously take pride in their work and this reflects well on your company.
Thanks Evan, for your efforts in our decision and purchasing process. The wealth of information that you provided and your quick responses to my questions in emails were much appreciated.
We would like to get a cover for the air conditioner. Can you please let me know about price and availability?
Thanks,
Thanks for everything guys.  Installers were great.
You guys rock! 🙂
Thursday evening my furnace was red tagged.  I called Capital City Heating and Cooling who responded immediately.  The technician confirmed the red tag.  The installers were at my house on Friday at 8:30 a.m. installing my new furnace.  They were friendly, polite and professional.  I would definitely recommend Capital City Heating & Cooling. 10 ++
I thought I would leave a review on your web site, but don't see a spot to do so.
My air conditioner failed during the hot spell this week and I phoned on Thursday morning. I found your receptionist to be very helpful, and she indicated that she would be sure that someone came out the same day. I had a couple of other appointments to work around, and Kerry had to call back a couple of times to try to find a convenient time. I was very happy to be kept informed and with the flexibility shown. Ultimately, the appointment had to be scheduled for "after 5". When it was getting close to 6 p.m. I was sure I was out of luck, but I received a phone call informing me that Alec would be there before 7. He arrived as indicated, and was able to diagnose the problem and provide me with an estimate, noting that my older air conditioner was reaching the end of its life. I chose to have him repair the air conditioner which he did very efficiently, and for the price indicated.
In summary, I was very pleased with all aspects of the service that I received, and would highly recommend Capital City.
Thank you for your most excellent service in replacing my old furnace and air conditioner last week. First your sales rep, Even, evaluated my requirements and explained my options in a concise and professional manner. Capital City was fast in securing the right equipment and arranging an acceptable installation date.
I was exceptionally impressed with your installation team Shawn, Taylor, and Tyson who worked together in a very efficient and pleasant manner. Their good natured banter while they worked made the job go smoothly.
The bottom line I am very satisfied with the installation.
I rate this experience 5 stars. Thank you.
I like to provide some feedback on an installation of a new furnace done this week. I had the good luck and pleasure to meet Shawn and Rusty. Two "keepers".
I had all my preinstall questions answered and they provided me additional information on what was going to happen. It turns out my floor is significantly tilted towards the floor drain. This was probably a contributor to my other unit's failure. The guys took the time to shim and align the new furnace. They also checked the AC unit and made sure it was correctly aligned.
After the install they took time to make sure that I was familiar with the new plumbing and operation. I was told that the furnace and AC where matched to provide most effective operation. All the new tubing and wiring was neat and secured in place. They left the work area cleaner than they found it!
Thanks for providing great service.
The Capital City Way
At Capital City, we believe that everyone wants to work with an honest company and we strive to exceed that expectation each and every day. We offer a service that cannot be measured monetarily. It can only be measured by the following criteria: with honesty, integrity and the satisfaction of a job well done. Our company is here to help you live a comfortable and happy life.